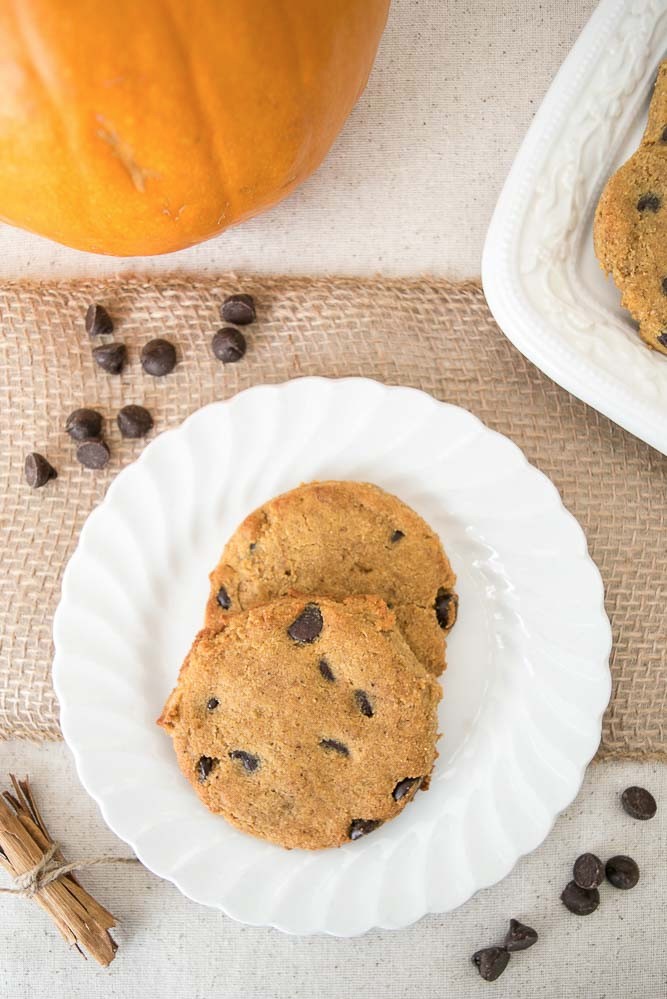 Pumpkin abounds in the holiday season, and there's no better place than to put it than in a cookie!
Chocolate Chip Pumpkin Cookie Recipe
Ingredients
2 1/4 cups almond flour
1/2 teaspoon salt
1/2 teaspoon baking soda
1-2 teaspoons ground cinnamon
1/2 teaspoon ground nutmeg
1/2 teaspoon ground ginger
1/4 teaspoon ground cloves
Equipment
Small mixing bowl
Large mixing bowl
Parchment paper
Baking sheet or baking stone
Preheat the oven to 350 degrees Fahrenheit and line a cookie sheet with parchment paper.
In the small mixing bowl, mash the banana until pureed. Add pumpkin puree, maple syrup, vanilla, and melted coconut oil and mix vigorously until combined.
In the large mixing bowl, add all dry ingredients except chocolate chips and mix until combined.
Stir liquid ingredients into the dry ingredients and mix thoroughly.
Fold in chocolate chips.
Using the cookie dough scoop, drop dough onto pre-lined baking sheet and level with your hand or a spoon. (Alternative: Chill dough for 20-30 minutes and roll out between sheets of parchment and score with a cookie cutter for a cleaner look.)
Bake for 15-20 minutes, or until bottoms begin to brown. Grab the parchment paper and slide all of the cookies onto a cooling rack or counter to prevent burning. Allow to cool and harden before eating.